Introduction
Honeymoon in Zanzibar
Are you and your significant other dreaming of a romantic getaway that combines cultural exploration, water sports, and pristine white sand beaches? Look no further than Honeymoon in  Zanzibar, a picturesque archipelago located in the Indian Ocean, just off the coast of Tanzania in East Africa. With its idyllic mix of stunning landscapes, rare wildlife, and rich history, Zanzibar is quickly becoming a popular honeymoon destination for couples seeking a unique and unforgettable experience.
Why Zanzibar is the Ultimate Honeymoon Destination
Honeymoon in Zanzibar offers a little something for everyone, making it a great choice for honeymooners. Whether you're seeking adventure, relaxation, or a mix of both, this captivating destination has it all. Here are some of the key highlights that make Zanzibar the perfect honeymoon spot:
1. Pristine Beaches and Water Sports for honeymoon in Zanzibar
Honeymoon in Zanzibar is famous for its breathtaking beaches with crystal-clear waters and soft white sand. The north coast of Zanzibar Island offers world-class scuba diving, calm waters, and fewer crowds, making it an ideal choice for underwater enthusiasts. On the east coast, you'll find spectacular beaches and windier conditions perfect for kitesurfing. The west coast, home to the popular Stone Town, offers a vibrant culinary scene and opportunities to spot sea life like green sea turtles, dolphins, and jellyfish. The southern coast immerses you in the captivating local culture and offers various spice tours to explore.
2. Rich Cultural Heritage and History
Zanzibar has a fascinating history influenced by ancient Persian traders, the Portuguese, the British, and many other cultures. Exploring the historic streets of Stone Town's old quarter, a UNESCO World Heritage Site, is like stepping back in time. The cobbled streets are lined with mosques and houses showcasing a mix of architectural styles. Dive into the vibrant local culture, visit the House of Wonders museum, and indulge in the unique flavors of Zanzibari cuisine.
3. Abundant Wildlife and Natural Beauty
Zanzibar is often referred to as the "Spice Islands" due to its role as a prime source of cloves, nutmeg, cinnamon, and black pepper for centuries. The islands are also home to rare wildlife, such as the red colobus monkey, which can be spotted in the lush gardens of some resorts. Explore the wonders of the Indian Ocean by snorkeling or diving among colorful coral reefs and diverse marine life. Take a trip to Jozani Chwaka Bay National Park to encounter fascinating animals like Zanzibar Sykes' monkeys, bush babies, and various bird species.
When to Visit Zanzibar for Your Honeymoon
Zanzibar experiences two high seasons and two rainy seasons throughout the year, each offering its own advantages and considerations for honeymooners. Here's a breakdown of the different seasons to help you plan your trip:
1. June to October: Pleasant Temperatures and Crowds Best time for honeymoon in Zanzibar
The first high season runs from June to October and offers pleasant temperatures in the 80s (Fahrenheit). This is also the driest time of the year, with minimal rainfall. However, it's worth noting that this is a popular time for tourists, especially those visiting Serengeti National Park for the Great Migration, so expect larger crowds. If you prefer a quieter experience, consider exploring the less crowded northern coast of Zanzibar Island and trying activities like scuba diving.
2. December to February: Warm Temperatures and Ideal for Kitesurfing Mid Time for honeymoon in Zanzibar
The second high season occurs from December to February and brings warmer temperatures, often reaching the 90s (Fahrenheit). This is a great time for kitesurfing enthusiasts, as the wind conditions are ideal. However, if you prefer a more relaxed beach experience, be aware that the weather can be hotter during this season.
3. March to May: Long Rains Season and Lower Crowds
The "long rains" season lasts from March to May, with rainfall occurring for weeks at a time. Many resorts choose to close during this period. However, if you don't mind some wet weather and prefer to avoid crowds, this could be an excellent time for a honeymoon in Zanzibar. You'll find lower rates on the few resorts that remain open and enjoy practically zero crowds.
4. November to December: Short Rains Season and Moderate Prices
The "short rains" season, from November to December, offers a mix of rainy and dry days. While you may experience scattered showers, it's less common to have continuous rainfall for 24 hours. This season provides an opportunity to enjoy moderately priced accommodations, pleasant temperatures, and the chance to combine beach time with cultural tours.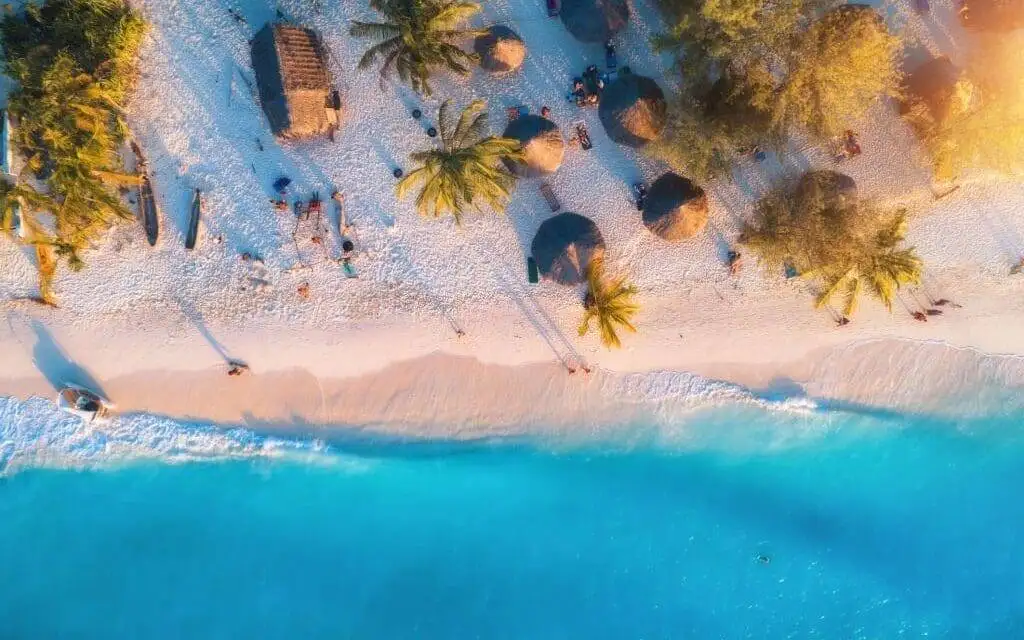 Getting to Zanzibar for Your Honeymoon
Zanzibar is easily accessible through various transportation options, offering convenience and flexibility for honeymooners. Here's how you can reach this exotic destination:
1. Direct Flights to Abeid Amani Karume International Airport Honeymoon in Zanzibar
For ultimate convenience, consider booking one of the many direct flights to Zanzibar's Abeid Amani Karume International Airport. Major cities such as Amsterdam, Paris, Brussels, and Milan offer direct flights to Zanzibar. This is a great option if you prefer a seamless journey without any layovers.
2. Flights to Julius Nyerere International Airport and Ferry or Domestic Flight to Zanzibar
Honeymoon in Zanzibar
Another option is to fly into Julius Nyerere International Airport in Dar es Salaam, on the coast of mainland Tanzania, and then take a ferry or domestic flight to Zanzibar Island. This option may be more cost-effective, and it allows you to experience the scenic ferry ride or a quick domestic flight, adding an element of adventure to your journey.
3. Ferry from Dar es Salaam to Zanzibar
If you're looking to save money or enjoy a unique experience, you can book a spot on one of the four ferries that make daily trips from the main port in Dar es Salaam to Zanzibar. The ferry ride takes approximately an hour and 45 minutes each way, and it offers stunning views of the Indian Ocean.
4. Visa Requirements for 
Honeymoon in Zanzibar
Before traveling to Zanzibar, make sure to check the visa requirements for Tanzania. You'll need a visa to enter the country, and the cost ranges from $50 to $100, depending on your nationality. U.S. citizens can expect to pay $100 for a visa. You can purchase the visa in advance online or upon arrival at the international airports in Dar es Salaam or Zanzibar.
5. Transportation in Zanzibar
Once you arrive in Zanzibar, renting a car is a convenient option if you plan to take day trips from your resort and explore the island at your own pace. Make sure to obtain an international driving permit and consider renting a four-wheel drive vehicle. Alternatively, many resorts offer transportation services to and from the airport, making it easy to reach your accommodation without the need for a rental car.
Choosing the Perfect Honeymoon Accommodation in Zanzibar
Zanzibar offers a variety of honeymoon resorts, each offering privacy, luxury, and stunning views. Whether you prefer a secluded beachfront retreat, a modern boutique hotel, or a resort immersed in nature, there's an accommodation option that will suit your preferences. Here are our top choices for honeymoon resorts in Zanzibar:
1. The Residence Zanzibar
Located on the southwest coast of Zanzibar Island, The Residence Zanzibar is an exquisite resort nestled amidst 80 acres of tropical gardens and a mile-long beach. The resort features 66 brown-tiled brick bungalows, each showcasing understated elegance inspired by the island's African, Omani, and European heritage. The bungalows offer luxurious amenities, including natural coconut body products and nightly turndown service with fresh truffles. The honeymoon package includes a kitenge, a traditional East African fabric similar to a sarong. Enjoy the wide wooden deck and plunge pool in each bungalow, which opens up to lush gardens where you might spot the rare red colobus monkey. Indulge in the diverse culinary offerings at The Dining Room and The Pavilion, where you can savor dishes from African, Omani, Indian, and Middle Eastern cuisines.
2. Zanzibar White Sand Luxury Villas & Spa
Situated on Paje Beach, on the east coast of Zanzibar, Zanzibar White Sand Luxury Villas & Spa offers a sleek and modern beachfront experience. The resort's villas blend seamlessly with the surrounding natural beauty, featuring a neutral color palette and stunning ocean views. The villas are the epitome of luxury, with private pools, high-ceiling lounges, and spacious bedrooms adorned with king-size beds. Indulge in the floating breakfast in the pool, unique spa treatments, and safaris to spot rare animals. The resort's commitment to sustainability and eco-conscious practices makes it an ideal choice for environmentally conscious honeymooners.
3. Baraza Resort & Spa
As one of the most coveted resorts in Zanzibar, Baraza Resort & Spa offers an opulent and culturally immersive experience. The resort's architecture draws inspiration from Arabic, Swahili, and Indian influences, featuring marble, rich woods, hand-carved cement decor, and one-of-a-kind antiques. With only 11 villas and three guest rooms, Baraza Resort & Spa ensures privacy and exclusivity for its guests. Immerse yourself in Zanzibari culture through activities like palm weaving, coconut harvesting, and Swahili cultural cooking. The resort is also home to the only PADI five-star Gold Palm and RAID diving certified dive center in Zanzibar, making it an excellent choice for scuba diving enthusiasts.
4. Zanzi Resort
Located on the west coast of Zanzibar, Zanzi Resort offers a boutique experience with a focus on sustainability. The resort's commitment to eco-conscious practices is evident in its food production, as it grows its own food and creates a habitat for various wildlife species. The resort's proximity to Stone Town, only 9 miles away, allows easy access to cultural attractions. Take advantage of the low-season package available from November to December, which includes reduced rates, complimentary breakfast and dinner, and a one-hour Japanese hot stone treatment called ganbanyoku. Zanzi Resort specializes in creating romantic experiences, such as private beach trips and candlelit dinners, perfect for honeymooners seeking intimacy and tranquility.
5. Elewana Kilindi Zanzibar
For honeymooners with a passion for distinctive architecture, Elewana Kilindi Zanzibar is an ideal choice. The resort's unique rounded, white structures offer stunning views of the Indian Ocean from a lush hillside. Each of the 15 domed pavilion suites features wide-arched, glassless windows that provide uninterrupted views of the sea. The suites also have private gardens, pools, and personalized butler service. Enjoy the main infinity pool, which seamlessly blends with the ocean, and indulge in alfresco dining, a waterfall bar, and rejuvenating spa treatments.
Must-Do Activities for Your Zanzibar Honeymoon
Honeymoon in Zanzibar offers a plethora of activities and experiences to make your honeymoon truly unforgettable. From exploring historic sites to embarking on thrilling adventures, here are some must-do activities for your  honeymoon in Zanzibar:
1. Encounter Dolphins off the Coast in your Honeymoon in Zanzibar
If you visit Zanzibar between January and February or June and October, don't miss the opportunity to witness the grace of dolphins up close. Join a tour off the coast of Mnemba Island or Kizimkazi Beach and experience the beauty of these gentle creatures in their natural habitat.
2. Explore the House of Wonders
Located in Stone Town, the House of Wonders is a historic palace built in 1883 by the second Sultan of Zanzibar. This architectural masterpiece now houses a museum showcasing Zanzibari cultural artifacts and providing insight into the island's rich history.
3. Dive into an Underwater wonderland, a popular activity for honeymoon in Zanzibar
For a truly magical experience, go scuba diving in the pristine waters surrounding Zanzibar. The Menai Bay Conservation Area and Mnemba Atoll are renowned for their vibrant coral reefs and diverse marine life. Whether you're a beginner or an experienced diver, exploring the underwater world with your partner will create lasting memories. Book now
4. Sail into the Sunset on a Dhow
Enjoy a romantic sunset cruise on a traditional dhow, a handcrafted wooden sailing vessel. Many tour companies offer dhow cruises with the option to enjoy cocktails and dinner on board. Sailing into the sunset with your loved one is the perfect way to create a memorable and intimate moment. Book now
5. Embark on a Spice Tour
Discover the aromatic flavors of Zanzibar by going on a spice tour. Explore the island's spice plantations and learn about the cultivation of cloves, nutmeg, cardamom, turmeric, cinnamon, chili, and black pepper. Immerse yourself in the vibrant culture and rich culinary heritage of Zanzibar.
6. Explore Jozani Chwaka Bay National Park
Take a private guided tour of Jozani Chwaka Bay National Park and immerse yourself in the island's natural beauty. Walk amongst baobab and mangrove trees, spot fascinating wildlife like the Zanzibar Sykes' monkey and red colobus monkey, and marvel at the park's diverse flora and fauna.
7. Experience the Thrill of Kitesurfing in Paje
If you and your partner are adrenaline junkies, don't miss the opportunity to try kitesurfing in Paje. The clear waters of the Indian Ocean, combined with the warm wind, create the perfect conditions for this exhilarating sport. Soar across the waves hand in hand and feel the rush of excitement as you navigate the ocean together. 
Additional Tips for Your  Honeymoon in Zanzibar
To ensure a smooth and unforgettable honeymoon in Zanzibar, here are some additional tips to keep in mind:
Respect the Local Dress Code: While you can dress casually at your resort, it's best to dress modestly in public areas. Women should cover their shoulders and legs as a sign of respect for the local culture.

Shop Responsibly: When shopping in Zanzibar, look for unique souvenirs like gold jewelry, handmade beads, textiles, spices, and wooden carvings. However, avoid purchasing items made from endangered species, such as ivory or tortoiseshell, to support responsible tourism.

Know the Driving Rules: If you plan to rent a car in Zanzibar, ensure that you have an international driving permit and consider renting a four-wheel drive vehicle. Remember that driving is on the left side of the road in Zanzibar, so familiarize yourself with the local traffic rules.

Capture Memories: Honeymoon in Zanzibar offers countless picturesque spots perfect for capturing your honeymoon memories. Don't forget to bring a high-quality camera or smartphone to document your experiences and create lasting mementos of your time in this beautiful destination.
Conclusion
A honeymoon in Zanzibar promises an unforgettable journey filled with romance, adventure, and cultural exploration. From the pristine beaches and vibrant marine life to the rich history and warm hospitality of the locals, Zanzibar offers a unique blend of experiences for honeymooners. Whether you choose to relax on the stunning beaches, embark on thrilling water sports, or immerse yourself in the island's rich culture, Zanzibar is sure to create cherished memories that will last a lifetime. So, start planning your dream honeymoon in Zanzibar and get ready to embark on a journey of a lifetime!