Introduction
Tanzania Safari FAQ
Tanzania Safari FAQ
Tanzania is one of the best places to go on a wildlife safari. It is home to some of the most spectacular national parks in the world. Whether you are a first-time Tanzania safari visitor or an experienced adventurer, getting ready for this amazing adventure may leave you with many questions. In this handy guide, we've answered the most commonly asked questions about Tanzania so you can plan your Tanzania safari with peace of mind.
Preparing for a Safari
Understanding Safari and Game Drives
Tanzania's national parks are home to a wide variety of wildlife. A safari, which means "tour" in Swahili, is an excursion that takes you on a safari-like journey through the wilderness of Tanzania. Most safaris take place in the national parks, where you'll travel in a custom-made 4×4 vehicle that allows you to explore comfortably. You'll start your safari adventure in one of the following national parks: Serengeti Ngorongoro Tarangire Arusha Lake Manyara Rubondo Mkomazi Saadani Safaris can also be organized in lesser-known but equally fascinating parks.
Embracing the Lodge Experience
Lodges are small hotels situated in or close to national parks. You'll be able to stay in a detached bungalow or tent in the middle of the African savannah. Lodges provide a sense of seclusion and exclusivity. Many of the lodges feature traditional local architecture and comfort levels that will make your safari an unforgettable experience.
Essential Items to Pack for a Safari
It's important to pack light, comfortable clothes for the day, and warmer clothes for the cooler nights, particularly in the north of the country's highlands. You'll also want to pack comfortable walking shoes, especially if you're planning on walking around the parks.
Don't forget your hat, sunglasses and sunscreen, as well as insect repellents to keep you safe.
For more information on packing safari essentials, see our article on
"What to Take on a Tanzania Safari?"
Age Restrictions and Park Visits
Age restrictions are not applicable in Tanzania's national parks, however, it's important to note that game drives are very long and can last up to a full day. This can be very tiring for young children, so we strongly recommend avoiding safaris with children under the age of 2. However, you can tailor game drives to your needs in terms of length and there are plenty of picnic spots in the parks where you can relax and soak up the beauty of the bush.
Tanzania Safari FAQ: A Unique Experience
There are two main reasons why Tanzania is an outstanding safari destination. First, hunting is banned in all national parks. As a result, Tanzania has a higher wildlife density than other African countries. Second, Tanzania's higher park fees help keep the number of visitors relatively low, making the safari experience more exclusive and authentic. Unlike some countries, where you'll often see small family cars on safari, in Tanzania you'll only see off-road vehicles.
Safaris in National Parks and Game Reserves
Duration of a Safari
The length of your safari is entirely up to you. You can go for a one-day game drive in a nearby park, or you can go on a multi-park safari, which can last for two weeks or longer. A typical day's game drive lasts from 4 to 8 hours, after which you can relax in your lodge for the remainder of the day. All lodges offer comfortable accommodation with Wi-Fi (though it may not always be available), delicious food, and most of the time a swimming pool.
Ideal Safari Start Times
We suggest starting your game drives around 6:30 to 7 AM. Here are a few reasons why:
Mornings are cooler, so you'll be more comfortable.
Animals are at their most active in the early morning.
You'll be able to beat the morning crowds and fully immerse yourself in the wilderness before heading back to your lodge.
Our experienced guides put your satisfaction first and are very flexible with scheduling, so you can tailor your safari to your needs.
Safari Vehicles: Your Ultimate Companion
Shiri adventures provides a fleet of customized 2016-2020 Toyota Land Cruiser 4×4 vehicles for your safari adventure. These vehicles offer ergonomic seats, fridges for cold drinks and snacks, electrical outlets for device charging, binoculars, and first-aid kits. The pop-up roofs allow you to stand and observe the wildlife comfortably, making it easier to capture breathtaking photos and videos.
A Culinary Journey in the Wild
Full-board meals are included in all Shiri adventures safaris packages. Breakfast is served at the lodge. Lunch is served in packed lunch boxes and can be enjoyed at picnic sites within the park. Dinner is served in the lodge. All Shiri safari vehicles are equipped with water, soft drink, tea, coffee and snacks. All of this is included in the Shiri safari tour price.
Seamless Transfers Between Parks
The national parks in the northern region of Tanzania are relatively close to each other, resulting in 2 to 3-hour drives between parks. This allows for efficient transfers and maximizes your time spent exploring the parks and encountering wildlife.
Exploring Nature: Park Regulations
Tanzania's national park rules strictly state that visitors are not allowed to leave their vehicles inside the national parks. This is to ensure the safety of visitors and the health of the local ecosystem.
However, all the national parks have rest and picnic areas where visitors can relax, take a walk, and enjoy a bite to eat in the African bush.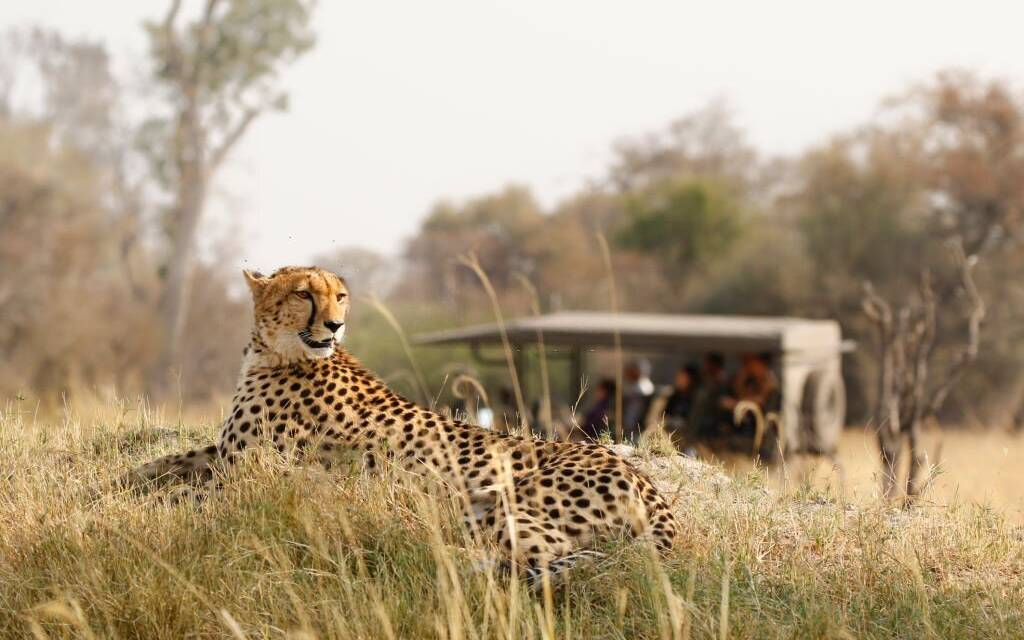 Tailored Safaris: Private or Group
The type of safari group you choose will depend on the type of safari tour you're planning to take. Joined safaris include people from different bookings. This means you'll have the chance to meet and converse with other travelers during your safari.
On the other hand, if you're looking for a more intimate experience, you can choose a private tour. Here, the only person in the vehicle is your English-speaking driver/guide. This allows for a more personal and intimate safari experience.
Unveiling the Role of Safari Guides
The role of your safari driver is crucial in keeping you safe, comfortable, and content throughout the entire safari.
Shiri adventures drivers not only know how to navigate the African wilderness, but they are also expert wilderness guides.
They know all the plants and animals in the area, making your safari even better.
Capturing Memories: Photography and Videography
Tanzania's national park rules allow visitors to photograph and video without restriction as long as you don't use any special equipment. You can use any standard camera for your safari photos and videos. However, you'll need a permit if you plan to use your footage for commercial purposes. Permits are not required for social media use. Drones are allowed but require a permit, which you must obtain in advance. Please let your Tour Manager know if you need a drone permit as it can be complicated and time consuming.
Family-Friendly Safaris
Not only is a safari safe, but it's also very educational and fun for kids. Seeing wild creatures in their natural environment makes for great memories.
However, it's important to keep in mind that younger kids may find the hours in the safari vehicle tiring. We'd avoid safaris with kids under 2 to ensure they're comfortable and happy.
Beyond the Safari: Unique Adventures
While on your safari, you have the opportunity to embark on additional adventures to further enrich your experience. One of the most memorable activities is a hot air balloon flight over the Serengeti plains, providing a breathtaking bird's-eye view of this iconic landscape. Canoeing is also available in parks with lakes, offering a different perspective of the wildlife and surroundings. For panoramic views of the African bush, consider chartering a single-engine plane for a thrilling aerial tour of the parks. Contact our Tour Managers for more information on these and other exciting activities.
Efficient Park Transfers: Chartered Flights
Travel by chartered flights between Tanzania's national parks saves time, especially in the southern parks. With airstrips at or close to all national parks, transfers are easy and maximize your time in the wild. Get in touch with our tour managers for more information and booking.
Staying Connected: Wi-Fi Availability
In Tanzania, all hotels and lodges offer Wi-Fi and Internet access. However, the speed may not be as fast as what you're used to. Take advantage of the chance to disconnect from the world around you and soak up the beauty of Tanzania. There's Wi-Fi, but the main focus should be on the safari experience.
Appreciating Exceptional Service: Tipping Safari Drivers
Tipping is customary in Tanzania, and it's customary to tip your safari driver to show your appreciation for their service. We recommend a tip of $30-50 per day of the safari per car if you're satisfied with the service provided.
Booking and Paying for Your Safari
Flights to Tanzania: What's Included
Our standard rates do not include international flights for safari tours. Since we work with clients from all over the world, it's impossible to set a 'one size fits all' international air travel rate. However, our experienced tour managers can help you select and book your air tickets.
Advance Payments and Booking Deadlines
In order to make hotel booking and expedition logistics easier, advance payments for our tours are required. A 30% advance is required for Classic tours, while a 50% is required for Luxury & Premium tours. A full advance is required for all flights within Tanzania and accommodation & excursions in zanzibar, as well. Advance payments are normally made no more than 60 days prior to the start of the tour. During peak tourism periods such as Christmas and July to August, we recommend booking hotels well ahead of time, usually 4 to 6 months in advance. Large corporate groups should pay 6 to 8 months ahead of time to ensure quality accommodation in hotels with limited availability, especially during peak tourist season.
Making Full Advance Payments
Full advance payments can be made to our Tanzanian bank accounts. Please note that bank transfers generally take 3-5 days to complete. The client is responsible for all transfer commissions and charges associated with the payment.
Additional Costs and Exclusions
There are a few other things you'll need to keep in mind besides the tour price: 1. Visa fees 2. Alcohol consumption at hotels (unless stated under all inclusive rates) 3. Tips for climb crews 4. Tips for safari drivers/guides 5. Average crew tips for a climb on Kilimanjaro is USD 250 per client. 6. The average safari driver tip is USD 30 to 50 per vehicle per day.
Cancellation Policy and Refunds
Our cancellation policy is as follows:
Cancellations made no later than 30 days before the tour starting date: full refund, minus the cost of hotel booking cancellations and bank charges.

Cancellations made no later than 15 days before the tour starting date: 75% refund, less the cost of hotel booking cancellations and bank charges.

Cancellations made no later than 7 days before the tour starting date: 50% refund, minus the cost of hotel booking cancellations and bank charges.

Cancellations made within 7 days of the tour starting date: 25% refund, less the cost of hotel booking cancellations and bank charges
Getting to Tanzania
Tanzanian Tourist Visa: What You Need to Know
Citizens of the European Union and the United States can obtain entry visas upon arrival at international airports and other designated border crossings in Tanzania. Alternatively, you can apply for a visa online through the Tanzania immigration website. Visa fees generally amount to USD 50, with the exception of citizens of the USA who are charged USD 100.
Choosing the Right Airport for Arrival
Tanzania has three international airports: Zanzibar, Dar es Salaam, and Kilimanjaro. Depending on your itinerary, our Tour Managers will recommend the most convenient airport for your arrival and departure.
International Carriers Flying to Tanzania
Airlines such as Turkish Airlines, Emirates, Fly Dubai, KLM, and Ethiopian Airlines offer regular flights to Tanzania. The choice of airline depends on your preferences and budget. If comfort is your priority, consult the ratings of the World's Top 100 Airlines 2017. Otherwise, select the airline that best suits your needs and budget.
Arrival Assistance and Late-Night Arrivals
Regardless of your arrival time, one of our drivers will be waiting for you at the airport with a sign bearing your name or your group's name. We provide reliable and convenient airport transfers to ensure a smooth start to your safari adventure.
Accommodation in Tanzania
Tailor-Made Hotel Selection
If you're booking a tailor-made tour, you have the flexibility to choose any hotel of your preference. Simply inform your Tour Manager, and they will calculate the cost difference for you. We strive to accommodate your preferences and provide the best possible experience during your stay.
Exquisite Cuisine at Tanzanian Hotels
Tanzanian hotels cater to international tastes, adapting their menus to suit European palates while incorporating local dishes. You can expect a diverse range of culinary options during your stay. When booking, inform your Tour Manager about any dietary preferences or restrictions to ensure a delightful dining experience.
Tanzania's Currency and Payment Options
The official currency of Tanzania is the Tanzanian Shilling (TZS). The current exchange rate is approximately TZS 2,400/USD 1. While cash payments in US dollars are widely accepted, it's important to note that notes issued before 2003 may not be accepted or may be exchanged at a lower rate. Some hotels and exchange offices also accept Euros and other major currencies, although preference is often given to US dollars. The exchange rate for non-US currencies may not be as favorable, so it's advisable to carry US dollars for convenience.
Security and Health in Tanzania
Safety for Tourists in Tanzania
Tanzania is considered a safe destination for tourists. The country relies heavily on tourism for its foreign income, and local authorities prioritize the safety and well-being of visitors. Tanzania boasts political stability within the region, and its people are known for their friendliness and hospitality. While some instances of criminal activity may occur, exercising common sense and following basic safety precautions will ensure a secure and enjoyable experience:
Avoid dangerous areas within towns, which are typically highlighted in guidebooks or can be pointed out by your guide.

Keep your belongings secure and never leave them unattended.

When taking photos in towns, it's advisable to have a guide accompanying you to facilitate communication with the locals. Respect local privacy and cultural sensitivities.

In the evening, it's recommended to use taxis for transportation within towns rather than walking. Your tour operator or hotel reception can assist in arranging safe transportation Read more about Tanzania safety
Health Precautions: Malaria and Vaccinations
Yellow fever has not been reported in Tanzania's tourist regions for the past two decades. However, if you plan to visit less-visited areas, it may be advisable to receive a yellow fever vaccination at least two weeks before your travel. This vaccination is effective for ten years. For more information on recommended vaccinations, consult our article on Tanzania vaccination requirements. Malaria is present in certain parts of Tanzania, but the risk is often exaggerated. Most national parks are low-risk areas, but remote regions may have a higher risk. It's essential to take necessary precautions to prevent malaria, such as using mosquito repellent, wearing long-sleeved clothing, and sleeping under mosquito nets. For more information, refer to our article on malaria prevention.
Travel Insurance: A Wise Investment
We strongly advise having comprehensive travel insurance when visiting any foreign country, including Tanzania. Your travel insurance should cover potential medical emergencies and evacuation, especially if you plan to climb Kilimanjaro, with coverage extending to altitudes above 6,000 meters. If needed, our Tour Managers can assist you in purchasing suitable travel insurance for your safari adventure
Water Safety in Tanzania
All hotels recommended by Shiri Adventures provide safe drinking water, and it's perfectly safe to use tap water for showering and brushing your teeth. However, for peace of mind, we recommend drinking bottled water, which is readily available at hotels and shops throughout Tanzania
Start Planning Your Tanzania Safari Today!
Tanzania offers an unparalleled safari experience, allowing you to witness the wonders of African wildlife in their natural habitats. With this comprehensive guide, you have all the information you need to plan your safari adventure with confidence. Contact our experienced team at Shiri Adventures to start designing your tailor-made tour and embark on the journey of a lifetime.