Introduction
Visit Zanzibar
Welcome to the ultimate guide to discovering the best time to visit Zanzibar! This stunning archipelago off the coast of Tanzania is a dream destination for any traveler seeking to experience the perfect blend of culture, history, and natural beauty. From the pristine beaches and turquoise waters to the vibrant markets and rich heritage, Visit Zanzibar has something for everyone. But with so many different seasons and weather patterns, it can be difficult to determine the ideal time to plan your trip. That's where this comprehensive guide comes in – we'll take a closer look at the different seasons, weather conditions, and events that can impact your Zanzibar experience, so you can make the most of your trip. So whether you're a beach lover, history buff, or adventure seeker, read on to discover the best time to visit Zanzibar and start planning your unforgettable journey today!
Climate and Weather in Zanzibar
Zanzibar is a tropical island with an average temperature between 25°C and 32°C. The warmest months are from December to February, while the coldest months are from June to September.
Before planning your trip, it's important to know about the climate and the weather on the island.
Zanzibar's climate is tropical, meaning it's warm and humid all year round.
The rainy season is divided into two types: long rains (from March to May) and short rains (from October to December). The long rains bring heavy rains and high humidity to the island, making it difficult to explore. During the dry season (June to October), the island experiences the driest and coldest weather of the season, making it ideal for outdoor activity and sightseeing.
However, it's important to note that the weather in Zanzibar can be unpredictable, and it's not uncommon for rain to fall outside of the rainy seasons. It's always a good idea to pack a raincoat or umbrella, just in case.
High and Low Seasons in Zanzibar
There are two main tourist seasons in Zanzibar: high season (June to October) and low season (December to February). The low season is March to May, and the high season (November to December). The high season is when the island is at its busiest, with the prices of accommodation and activities at their highest. During the low season, there are fewer tourists, and the prices are lower.
The low season in Zanzibar is the best time of year to visit if you want to avoid the crowds and save money. However, some hotels and restaurants close during this time, and some activities are closed due to inclement weather.
The best time to visit Zanzibar
Zanzibar's dry season (June to October) and December to February are the best times to visit. Dry season means low humidity and low rainfall, making it the perfect time to explore the island's beautiful beaches, water sports, and cultural landmarks.
June to October is considered the peak tourist season, with clear skies, warm temperatures, and excellent diving and snorkeling conditions. However, this is also when Zanzibar tends to be more crowded, and accommodations might be pricier.
December to February is also a popular time to travel as the weather is usually good. During this period, you can enjoy cultural festivals and outdoor activities.
Keep in mind that the months of November and early March can be transitional, with some rainfall and humidity as the seasons change.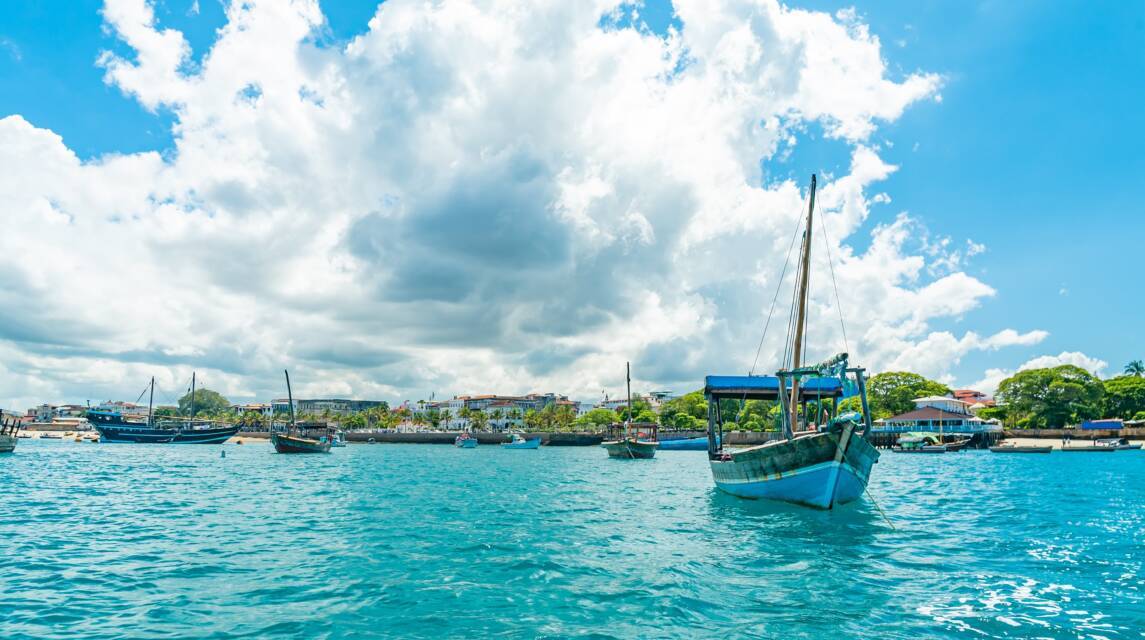 Best Time to Visit Zanzibar for Beach Lovers
If you love the beach, then you've come to the right place. With its white-sand beaches and crystal-clear waters, it's the perfect place for beach lovers.
Zanzibar's dry season runs from June through October, and it's a great time to visit if you're looking to relax, sunbathe, swim, or take part in water sports.
However, if you want to get away from the crowds and enjoy a bit of serenity, the low season is the best time to hit Zanzibar's beaches. The beaches are less crowded during this time, and you can take in the beautiful scenery without the crowds.
Best Time to Visit Zanzibar for Diving and Snorkeling
Zanzibare is one of the world's most popular diving & snorkelling destinations. With its turquoise waters and abundance of marine life, it's an underwater paradise for divers and snorkelers.
The best time to dive and snorkel in Zanzibar is in the dry season (June to October). During this time, the waters are clear and calm.
However, whale shark sightings and humpback whale sightings are best in the months of October to March, when the whales migrate to the surrounding waters.
Best Time to Visit Zanzibar for Safari and Wildlife Viewing
Not only are the beaches and sea life incredible, but so are the wildlife. The best time to see the island's wildlife is between June and October. The dry weather and sparse vegetation make it easy to spot animals. You can take a trip to the Jozani Forest, which is home to the endangered red colobus monkey, or visit the Zanzibar Butterfly Centre, which is home to over 50 species of butterflies.
Zanzibar rainy season
Zanzibar rainy season, spanning from March to May, brings intermittent tropical showers and high humidity. While showers are common, moments of sunshine prevail, offering a quieter and serene atmosphere. This off-peak period provides a chance to explore the island with fewer crowds and potentially lower rates, making it an intriguing option for travelers seeking a tranquil getaway.
Festivals and Events in Zanzibar
Zanzibar rich culture and heritage are celebrated in a variety of festivals and events throughout the year.
The Zanzibar international film festival takes place in July, featuring films from all over Africa and parts of the Middle East.
Zanzibar beach and watersports festival takes place in September, featuring a variety of water sports and activities on the beach.
Mwaka kogwa festival takes place in December, marking the beginning of the swahili new year.
Tips for Traveling to Zanzibar
Here are a few things to keep in mind if you plan to travel to zanzibar:
– It's always hot and humid, so pack light and comfy clothes.
– Bring a raincoat or umbrella, as the weather can be unpredictable.
– Get vaccinated for yellow fever and take precautions against malaria.
– Respect the local culture and customs, which are largely influenced by Islam.
– Try the local cuisine, which features a mix of African, Indian, and Arabic flavors.
Top Things to Do in Zanzibar
Zanzibar has something for everyone, from history buffs and beach lovers to adventure seekers and foodies. Here are some of the top things to do in Zanzibar:
– Visit Stone Town, the historic heart of Zanzibar, and explore its winding streets and colorful markets.
– Take a trip to Prison Island, where you can see giant tortoises and enjoy some snorkeling.
– Relax on one of Zanzibar's many beaches, such as Nungwi Beach or Kendwa Beach.
– Explore the Jozani Forest and see the endangered red colobus monkey.
– Take a spice tour and learn about Zanzibar's rich history of spice trading.
– Try the local cuisine, which features dishes such as biryani, samosas, and seafood curry.
Conclusion
Zanzibar has something for everyone. From relaxing on the beach to exploring the island's rich history and culture to discovering its amazing wildlife, there's something for everyone to enjoy.
By understanding the climate and weather patterns of Zanzibar, as well as the tourist season and festivals, you'll be able to plan the perfect Zanzibar vacation that will leave you with memories that last a lifetime.