Introduction
Zanzibar Beach Holiday
Zanzibar Beach holiday. If you're looking for a paradise in East Africa, then Zanzibar Beach  is the perfect destination for you. This stunning island located off the coast of Tanzania is a haven for beach lovers, nature enthusiasts, and cultural enthusiasts alike Zanzibar Beach holiday. With its pristine beaches, crystal-clear waters, and picturesque landscapes, Zanzibar is the ultimate escape from the hustle and bustle of everyday life. The island is steeped in history and culture, with a rich heritage that has been shaped by centuries of trade, colonization, and migration. From the bustling markets of Stone Town to the idyllic beaches of Nungwi, Zanzibar is a place that will captivate your senses and leave you with memories that will last a lifetime. So, pack your bags, and get ready to experience the beauty and tranquility of Zanzibar – your next holiday destination.
The Beauty of Zanzibar Beaches
Zanzibar beach holiday boasts some of the most beautiful beaches in the world. The island is surrounded by the turquoise waters of the Indian Ocean, and its shores are lined with soft white sand and swaying palm trees. Some of the best beaches on the island include Nungwi, Kendwa, and Paje.
Nungwi is located on the northern tip of the island and is known for its picturesque sunsets and clear blue waters. The beach is perfect for swimming, snorkeling, and sunbathing. Kendwa is also located on the northern coast and is popular for its long stretch of white sand and vibrant nightlife. Paje is located on the eastern coast and is a popular spot for kiteboarding and windsurfing.
Zanzibar's Rich Culture and History
Zanzibar has a rich cultural and historical heritage that has been shaped by centuries of trade, colonization, and migration. The island was an important trading hub for spices, ivory, and slaves, and its history is reflected in its architecture, cuisine, and traditions.
One of the best places to experience Zanzibar's cultural heritage is in Stone Town, the historic heart of the island. Stone Town is a UNESCO World Heritage site and is known for its narrow alleyways, bustling markets, and ornate buildings. The town's architecture is a mix of African, Arabic, and European styles, and its streets are lined with shops selling spices, textiles, and handicrafts.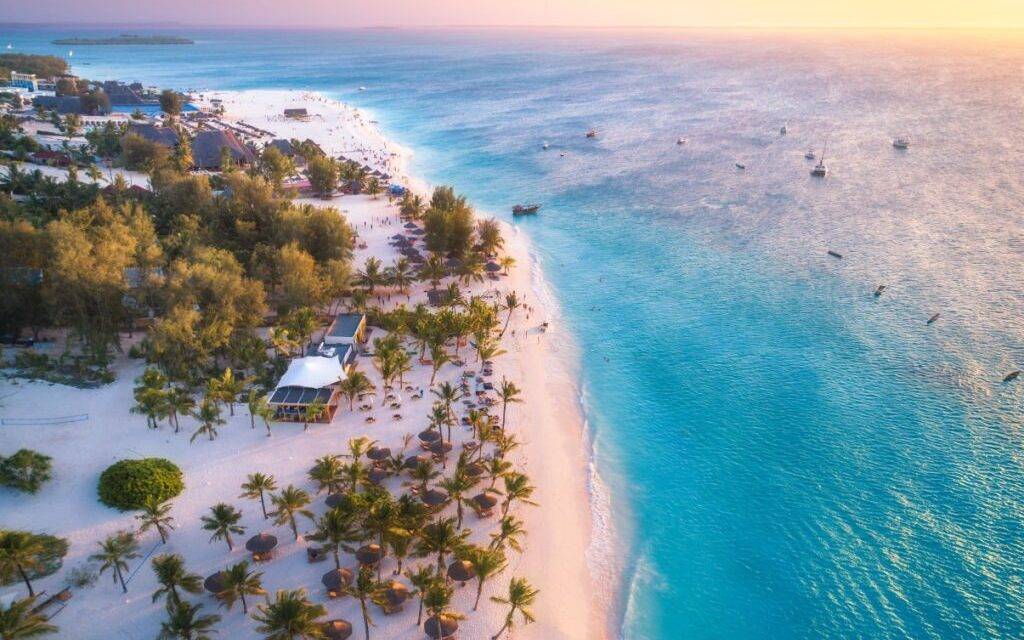 Activities to Do in Zanzibar
Zanzibar offers a wide range of activities for visitors to enjoy. In addition to its stunning beaches and rich cultural heritage, the island is also home to a variety of wildlife and natural attractions.
One of the top activities to do in Zanzibar is to go on a spice tour. The island is known for its production of spices such as cloves, nutmeg, and cinnamon, and a tour of one of its spice plantations is a great way to learn about the island's history and culture. Another popular activity is to go on a safari to see Zanzibar's wildlife, including red colobus monkeys, giant tortoises, and dolphins.
For those who love watersports, Zanzibar offers some of the best snorkeling and diving in the world. The island's coral reefs are home to a diverse array of marine life, including colorful fish, sea turtles, and dolphins.
Best Time to Visit Zanzibar
The best time to visit Zanzibar is between June and October, during the island's dry season. During this time, temperatures are mild and rainfall is minimal, making it the perfect time to enjoy the island's beaches and outdoor activities.
If you're planning to visit Zanzibar during the wet season, which runs from November to May, be prepared for higher temperatures and occasional rainfall. However, the wet season is also a great time to visit Zanzibar if you're interested in seeing the island's lush vegetation and enjoying its waterfalls and rivers.
Accommodations in Zanzibar
Zanzibar offers a wide range of accommodations to suit every budget and preference. From luxury resorts to budget-friendly guesthouses, there is something for everyone on the island.
Some of the top luxury resorts on the island include the Zanzibar Serena Hotel, the Park Hyatt Zanzibar, and the Melia Zanzibar. These resorts offer world-class amenities, including spas, restaurants, and private beaches.
For those on a budget, Zanzibar also has a variety of guesthouses and hostels that offer affordable accommodations. Some of the top budget-friendly options include the Amaan Bungalows in Nungwi, the Zanzibar Beach Resort in Kendwa, and the Coral Rock Hotel in Jambiani.
Transportation Options in Zanzibar
Getting around Zanzibar is easy, thanks to its well-developed transportation infrastructure. The island has a network of buses and taxis that connect its major towns and tourist attractions.
For those who want to explore the island at their own pace, renting a car or a motorcycle is also an option. However, be aware that driving in Zanzibar can be challenging, due to the island's narrow roads and unpredictable traffic.
Zanzibar's Culinary Delights
Zanzibar's cuisine is a fusion of African, Arabic, and Indian flavors, thanks to the island's history as a trading hub. Some of the top dishes to try in Zanzibar include biryani, a spiced rice dish, and urojo, a tangy soup made with mangoes and tamarind.
Another popular local dish is pilau, a flavorful rice dish that is often served with meat or seafood. Zanzibar is also known for its seafood, with fresh catches of fish, crab, and lobster available in many of the island's restaurants.
Safety in Zanzibar
Zanzibar is generally a safe place to visit, with low levels of crime and violence. However, as with any travel destination, visitors should take precautions to ensure their safety.
Some of the top safety tips for visitors to Zanzibar include staying aware of your surroundings, avoiding walking alone at night, and keeping your valuables secure. It's also a good idea to research the areas you plan to visit and to follow the advice of locals and tour guides. Best time to visit Zanzibar
Conclusion 
Why Zanzibar Should Be Your Next Beach Holiday Destination
Zanzibar is a paradise in East Africa, with its stunning beaches, rich culture, and diverse range of activities. Whether you're a beach lover, a nature enthusiast, or a cultural explorer, there is something for everyone on this beautiful island.
From the bustling markets of Stone Town to the idyllic beaches of Nungwi, Zanzibar is a place that will captivate your senses and leave you with memories that will last a lifetime. So, pack your bags, and get ready to experience the beauty and tranquility of Zanzibar – your next holiday destination. Book now