Introduction
Is climbing Kilimanjaro hard
Is climbing Kilimanjaro hard or Is climbing Kilimanjaro difficult? Short answer: yes! But as we always add, it's also extremely doable if you're in good shape, climb with a good team and have a can-do attitude.
Below we discuss all the different aspects of climbing that make it "hard", whether it is physically challenging or mentally challenging, as both must be overcome to achieve a successful climb. Understanding the challenges of climbing is an important part of preparing for Kilimanjaro.
1. Long hiking hours and Distance
The number of hours and distance walked on Kilimanjaro per day depends on the chosen route and itinerary. The seven routes up and down the mountain take between five and nine days. Their total length also varies from 53 km to 98 km (61 mi).
In addition, the different days of each route are often very different. For example, the eight-day Lemosho route covers only 5 km on day 5, which is about four to six hours of hiking. But you drive 17 km on day 7 (peak day), which is about 10 hours of hiking.
Of course, the overall fitness of your climbing group also affects how many hours a day you spend hiking.
Remember that most of your days on the mountain will involve uphill climbing. There are also no rest or acclimatization days when climbing Kilimanjaro. So it takes good strength and stamina to make a long and difficult uphill journey every day for almost a week.
2. Steep Climbing
Kilimanjaro is a mountain climb, so it goes without saying that you will be doing some serious climbing! Remember, your goal is to reach the summit, which is 5,895 meters above sea level!
However, some of Kilimanjaro's seven routes are steeper than others. The Umbwe route is the shortest and steepest route, while the Northern Circuit is the longest route with the most gradual ascent.
Our leading Kilimanjaro expert ranks the steepness of the seven routes as follows, starting with the steepest and in descending order:
 1.Umbwe
2. Lemosho
3. Rongai
4. Marangu
5. Shira
6. Northern circuit
The Barranco wall is really steep
Perhaps the biggest point to mention in terms of steepness is the Barranco Wall. This is by far the steepest part of the Kilimanjaro route and requires some climbing. You can reach the Barranco Wall only by the Shira, Lemosho, Machame, and Umbwe roads. If you are not interested in this steep climb, we recommend climbing the Northern Circuit, Rongai or Marangu.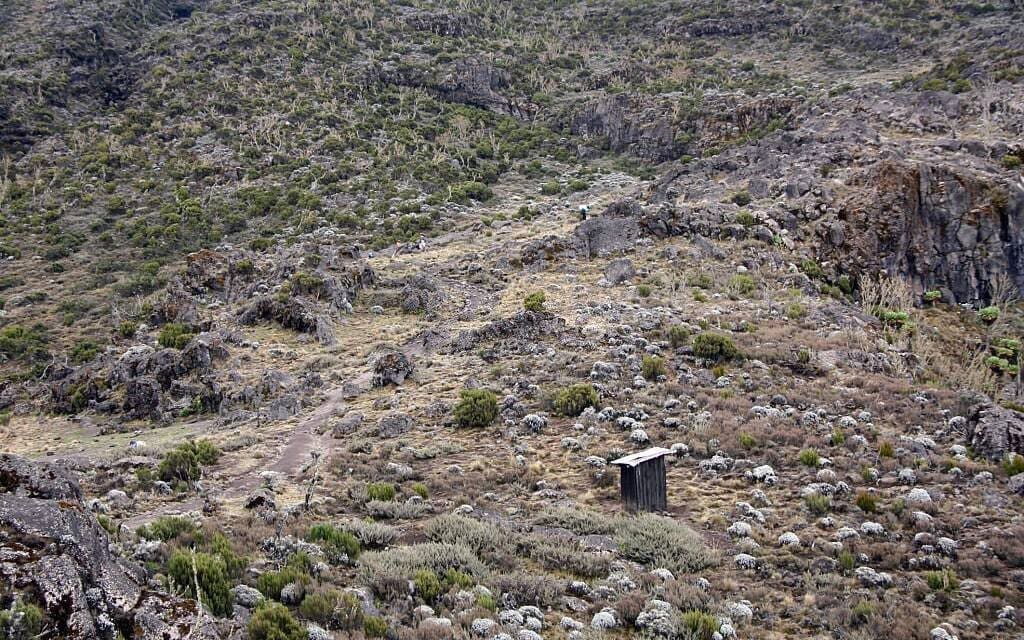 3. Height
Since we are talking about the height and visibility of Kilimanjaro and the height during the ascent, each of the seven Kilimanjaro routes has a different starting height. For example, the Lemosho route and the Northern Circuit have Lemosho Gate as the summit of the trail, which is 2,100 meters (6,890 ft) above sea level. In comparison, the Marangu trailhead, which is the Marangu Gate, is significantly lower at 1,843 meters (6,047 feet). This means that the vertical distance you have to travel to reach the top of Uhuru is further in Marangu than in Lemosho.
Here is the elevation of the seven different routes in ascending order (ie from least to greatest rise):
Shira route: 

2,481 m (8,231 ft)

Lemosho route:

 3,795 m (12,541 ft)

Northern Circuit: 

3,795 m (12,541 ft)

Rongai route:

 3,945 m (13,033 ft)

Marangu route:

 4,052 m (13,384 ft)

Machame route:

 4,255 m (14,051 ft)
As you can see, the Machame route requires the highest gain while the Shira route requires the least amount of ascent. This is because it starts above the rainforest, while other routes involve climbing up and climbing through the forest.
Although the higher altitude usually means a slightly longer and more difficult climb, be sure to read the next paragraph to understand why the Shira is not actually an easier route, as it can lead to a much higher chance of altitude sickness.
4. Climb to extreme heights
One of the things that makes climbing Kilimanjaro really difficult is that you are very high up. The higher you climb, the harder it is to breathe because our lungs cannot access as much oxygen as usual. It is an exercise, especially a fiscal one.
Reduced oxygen consumption can cause unpleasant symptoms such as poor sleep, dizziness, nausea, and headaches. These symptoms don't necessarily mean you're sick, just that your body is having a hard time adjusting. Most Kilimanjaro climbers experience one or more of these symptoms and it is important to be mentally prepared for these struggles. Such discomforts make climbing Kilimanjaro much more difficult because you are not the best, but you still have to train to climb.
Risk of altitude sickness
Although mild altitude sickness is common to almost all Kilimanjaro climbers, it is not a serious problem unless it develops into moderate or severe altitude sickness.
People who develop moderate to severe altitude sickness should descend the mountain immediately as it can actually be fatal. If your guide says you must get off the mountain for your own safety, you must get off without flinching.
We argue that this "uncertainty" makes climbing Kilimanjaro difficult because you have to plan your climb and accept that you may not complete it even if you have the necessary fitness and determination.
Experts can't predict who is liable to develop altitude sickness in terms of age, sex or fitness. It seemingly strikes at random.
The very best defence against altitude sickness is a slow ascent, as this gives your body a better chance of adapting healthily to the increased elevation. This is why we don't usually recommend climbs under eight days, except to those who are experienced high-altitude trekkers and therefore know how their bodies cope with high altitude.
5. Extreme cold near the summit
But let's move on to the hardest part of Kilimanjaro weather: the extreme cold near the summit. If you are not properly equipped with warm, waterproof clothing and hiking gear, you are putting yourself at risk. This is one of the main reasons why it is so important to travel with a reputable tour operator who will provide you with the right camping equipment and good advice on what clothes and things to bring.
However, with the right equipment, it is cold and makes climbing Kilimanjaro difficult. Especially at high altitudes is the ordeal of the icy night, and survival requires determination and focus. The wind can also be strong near the top, so it's good to be mentally prepared for that.
7. Night Summit push at the top
Most Kilimanjaro attempts to start at midnight. This means your team will wake you up a little earlier to prepare and enjoy a hot drink and cookies. Many people tend to sleep in their outer clothes to make this moment easier.
Most people find that they have had little (if any) sleep before waking up in the middle of the night, partly because the high altitude makes it difficult to sleep and partly because your nerves don't allow you to rest properly. So, after only a few hours of rest, you have to get up in the dark and freezing cold to run to the top of Uhuru. Needless to say, the wind is often strong at this altitude and the added challenge makes you crawl deeper into your sleeping bag rather than getting out and pushing yourself harder than ever!
It is certainly no exaggeration to say that summit night is the hardest part of climbing Kilimanjaro for most people. It's dark, it's very cold, the air is thin and the effort is much more exhausting, and you have to climb about a thousand meters! It is both a mental and physical challenge of considerable proportions. To master it, you need to prepare yourself physically and mentally
8. Camping and basic hygiene
The last thing to consider is that we will be camping for more than a week. (Unless you're hiking the Marangu route, in which case you'll be staying in shared huts.) It's a good time to be in and out of tents and hike over friends' ropes. However, the biggest challenge for most people is saving space for hygiene purposes.
Unless you're traveling with a luxury operator, you won't be showering on Kilimanjaro. Instead, you have a bucket of water that you can use for a strategic "wash wash" activity. We also recommend packing wet wipes with you in the tent. And of course, don't forget to bring a hard-working duo.
What is the minimum age to climb Kilimanjaro?
According to Kilimanjaro National Park rules, the minimum age to reach the summit is 10 years. We are careful about climbing with children under 15, as long hikes can be boring for them and the last few days can be dangerous. Please contact us if you feel your child under 15 is up to the challenge of Kilimanjaro so we can prepare for your child's individual needs.
Can I climb Kilimanjaro on my own? It's impossible!
Kilimanjaro National Park rules do not allow trekking without an approved guide. This is for your safety. Kilimanjaro is not allowed without a guide.
It is technically possible to climb Kilimanjaro with only a guide – no gates, no camp group, no cooks – but it would be incredibly difficult and stressful for you. Most climbers want to experience climbing Kilimanjaro, which we prepare with our climbing team. Also, it would be a much longer hike if you brought all the necessary equipment yourself!
Conclusion – Is Kilimanjaro really difficult to climb?
Climbing Mount Kilimanjaro presents several challenges, but they are all solvable. Getting to the roof of Africa requires planning, allowing enough time for acclimatization and physical exercise.
Although the highest mountain in Africa is difficult, it is not unattainable.
Whether you want to climb all seven peaks or hunt for the best selfie at Uhuru Peak, start planning today!